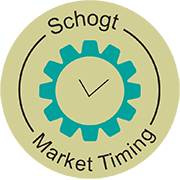 Print
The preview goes to Members by email for FREE. Join us today!
We will not share your email address with others.
Note: Due to Course 6 of the Merriman Market Timing Academy taking place June 2-6, there will be no column next week. The next column will be issued for the week starting June 16.
Review
Most world stock indices were higher last week, with some (like the S&P) making new all-time highs, but others (like the DJIA) still off their intraday all-time highs.
In Europe, the German DAX soared to a new all-time high and is now testing the 10,000 mark. The Zurich SMI index also rallied to its highest level since December 2007. However, both the Netherlands's AEX and London FTSE were slightly below their highs of a couple of weeks ago. Russia's MICEX continued to recover from its recent lows, but still well of its highs of last October.
In Asia and the Pacific Rim, there were no new highs. The India Sensex, however, came close, before failing. The Japanese Nikkei had a "gap up" week (the low of the week was higher than the previous week's high), which suggests higher price ahead.
In the America's, the S&P index raced to a new all-time high, but the Dow Jones Industrial failed to do the same, which might become a case of intermarket bearish divergence is next week is down. In South America, Argentina's Merval Index exploded to a new all-time high, but Brazil's Bovespa market was lagging far behind. All these divergences and potential divergences reflect the uncertainty still operative within the Uranus-Pluto waxing square. That uncertainty is likely to increase in about two weeks when both Mercury and Neptune turn retrograde (June 7 and 9 respectively).
While stock indices were generally higher last week, the precious metals were stunningly lower. Gold and Silver sold off, even though interest rates came down sharply during the week to their lowest levels in many months. Previously this behavior was thought to be a catalyst for higher Gold and Silver prices. Instead, both fell to their lowest levels in many months. We think this is all part of the Mars direct correlation as discussed in our Special MMA Silver report of two weeks ago, which is still available to new subscribers for another two weeks.
In other markets, Crude Oil turned back from its attempt to exceed 105. It halted at 104.50 and then closed the week at 102.71. That should be back in the news when Neptune turns retrograde on June 9. The European currencies all fell to new cycle lows last week too, before finding a potential bottom mid-week.
Best Trade of the Week
Our best trades of the week in the weekly subscription report were in all the currencies (Euro, Euro-Yen, Dollar-Yen, and Swiss Franc), where we exited all shorts for excellent profits and went long. T-Notes also qualified as "best trades of the week." Here is an example in the Euro currency, which advised, "Aggressive traders are also short with a stop-loss on a close above 1.3750 after covering 2/3 for a nice profit recently. Cover the remainder in weekly support (1.3573-1.3587), and then go long on the first daily close back above daily support, with a stop-loss on a close below 1.3450." That trade worked out extremely well from the short side, and now we are long from near the low of the week (1.3584), which was right in weekly support. The weekly T-Notes advised, "Aggressive traders may look to sell short in September at 126/00-126/06 if offered, with a stop-loss on a close above 127/00." The high was exactly 126/00.
It is too early to see if any of our trades on the daily reports will turn out to be "best trades." In the Friday report for June S&P, for example, the report stated, "Sell short on open tonight with a stop-loss on a close above xxx. If you don't trade overnight, then wait five minutes and see if the intermarket bearish set up remains in effect Friday morning, then sell short if it does, with a stop-loss on a close above xxx."
Short-Term Geocosmics
Mars retrograde ended May 21, but the influences of it in financial market and geopolitical arenas still continue – and may continue until Mars can pass the Uranus-Pluto square in its direct motion, June 14-25. That should be a very interesting time, when many of the anxieties of the Grand Cardinal Climax of late April come back into play as well.
But first, investors and traders will have to deal with Mercury and Neptune both turning retrograde, June 7-9. Mercury rules information and communications. Neptune rules the non-tangible, the unseen, as perhaps in "hidden agendas" that attempt to distort or hide what is really happening. It may indicate a time of political deception, untruths delivered for the purpose of harming the reputation of ones opponents or simply to gain an unfair advantage over others, especially in financial markets. Yes, it is favorable for poetry, music, dancing, and the theatre. But we deal with financial and political arenas, and Neptune can have a much different expression there. Be alert to rumors that are not facts, to communications that may be intentionally inaccurate or misleading, or even a lack of important information and disclosure that would make your decision entirely different had you only known.
On June 12 and 14, within the orb of influence of Mercury and Neptune turning retrograde, we find Venus in opposition to Saturn, and Mars square to Pluto. Venus rules partnerships and alliances, but in opposition to Saturn, there tends to be disappointments or unreasonable demands. But the greater concern is Mars square Pluto, which at the same time starts its translation to the whole Uranus-Pluto square, lasting through the end of June. This is a dynamic where a misdirection may be a cover up to an act of military aggression. Once again, it stirs up the natal charts of the USA and Russia. If too brazen and startling, it may also stir up the stock markets and precious metals markets of the world.
Longer-Term Thoughts
"But an important part of the story is also that markets have likely been seduced by monetary policy and are unwilling to challenge it. How long this seduction lasts is hard to say, but the liaison has an air of ephemeral lust rather than eternal love to it." – Morgan Stanley Research, May 28, 2014
Seduction. Ephemeral. What perfect words for Neptune. And also liaison and love, which are qualities astrologers assign to Venus. It is most interesting that these planetary dynamics are in play in June. And how realistic is it that maybe - just maybe –investors have become too complacent, too accepting of the so-called "new normal" that is already an "old normal;" with regards to interest rates staying low forever? Well, I like the Morgan Stanley Smith Barney research, and I find it most fascinating when their research (or any of the large firms) dovetails with our understanding of cosmic dynamics currently in vogue.
Let's see how this symbolism actually unfolds over the next two weeks. At least now you are prepared. And while you wait for a situation to manifest, why not go out to a movie, the theatre, boating, or just go out and have fun dancing or listening to music (like a concert). Neptune is good for enjoyment and romance. But be careful what you say to your date or dancing partner, especially if you are in an alternative reality (that's Neptune too!). If you don't tell the truth, the whole truth, you may be called out, and that could prove embarrassing. Especially if you are living in an alternate reality.
Announcements
MMA's weekly and daily reports continue to be extremely accurate and profitable over the past several weeks, especially in equity indices, precious metals, Treasuries, and soybeans. If you are an active short-term trader, or even if you are an investor who likes to keep up with our current thoughts on financial markets, you may be interested in our Weekly or Daily Market reports. It is the only way I keep in touch with traders on a daily or weekly basis. These reports give in-depth analysis of the DJIA, S&P and NASDAQ futures, Euro currency (cash and futures), Dollar/Yen cash and Yen futures, Euro-Yen cash, T-Notes, Crude Oil, Soybeans, Gold and Silver, plus GLD and SLV (the Gold and Silver ETF's). Both reports provide trading strategies and recommendations for position traders as well as for shorter-term aggressive traders. Subscription to the daily report also includes the weekly report.

Have you checked out Gabriella Mittelman from Israel's amazing reseach on Mars and the Euro yet? She's part of the World-wide Platform for Financial Astrology and newletter Market Timing Digest that comes out in 3-4 issues per month. Monthly editions provide a clear monthly summary of the median month forecast for stock markets, the price of Gold and Euro/Dollar. Using the Merriman Market Timing Method, the Updates help guide readers through the rest of the month with trading recommendations and Model Portfolio. Read more here >>
For last month's best analysts read more here>>

The Special Silver Report with long-term views will be sent for free to any new subscribers to the monthly MMA Cycles Report, covering the outlook for U.S. stock indices, Gold, Silver, Treasuries, Currencies (Euro and Swiss Franc), Crude Oil and Soybeans, MMA Janpan Cycles Report covering the Nikkei, JGB Bonds, and the Dollar-Yen, the daily report and the weekly report.

Course 5 of the MMTA (Merriman Market Timing Academy) was a great success! This course, titled "Trading and Investing Planning: Combining Market Timing Studies and Price Objective Calculations," was held March 24-27, 2014, in Troy, Michigan. This course focused on several topics. The first was the development of a weekly and daily trading plan, based on cycles, geocosmic signatures, and solar-lunar combinations. Real-time strategies took place every morning and at the end of the trading day. Then, longer-term market cycles, longer-term planetary cycles, and calculations of price objective targets for long-term cycle tops and bottoms, along with their patterns and sub-cycles were addressed. From there, the lessons moved into intermediate- and shorter-term price calculations. The DVD and LMS (on line version) of the course will be available at the end of April, via MMTA>> and via us. The cost of this 4-day course is $3600.

MMTA Course 6 will take place June 2-5, 2014, also at the Michigan State University Management Education Center (MEC) in Troy, Michigan. This course will focus on short-term calculations of daily and weekly support/resistance, and trading plans to go with it. These plans will combine our knowledge of market timing tools, including cycles, geocosmic critical reversal dates, and solar-0lunar combinations. For more information, please call us at ++31 294 415 917, or contact us by email.

The first year of MMTA classes (the Merriman Market Timing Academy) is also available! The courses (all 4 together, or separately) are available via our LMS website-uploadable venue (no postage), or in DVD, to those who wish to become students of MMA's methodology. Each course comes with a full workbook (90-130 pages each). For a complete description of these courses – and those yet to come – please call our office in Netherlands, at ++31 (2) 294 415 917.
Disclaimer & State of Purpose
The purpose of this column is not to predict the future movement of various financial markets. However, that is the purpose of the Schogt Market Timing & MMA (Merriman Market Analyst) subscription services. This column is not a subscription service. It is a free service, except in those cases where a fee may be assessed to cover the cost of translating this column from English into a non-English language.
This weekly report is written with the intent to educate the reader on the relationship between astrological factors and collective human activities as they are happening. In this regard, this report will oftentimes report what happened in various stock and financial markets throughout the world in the past week, and discuss that movement in light of the geocosmic signatures that were in effect. It will then identify the geocosmic factors that will be in effect in the next week, or even month, or even years, and the author's understanding of how these signatures will likely affect human activity in the times to come.
The author (Merriman) will do this from a perspective of a cycle's analyst looking at the military, political, economic, and even financial markets of the world. It is possible that some forecasts will be made based on these factors. However, the primary goal is to both educate and alert the reader as to the psychological climate we are in, from an astrological perspective. The hope is that it will help the reader understand these psychological dynamics that underlie (or coincide with) the news events and hence financial markets of the day.
No guarantee as to the accuracy of this report is being made here. Any decisions in financial markets are solely the responsibility of the reader, and neither the author nor the publishers assume any responsibility at all for those individual decisions. Reader should understand that futures and options trading are considered high risk.