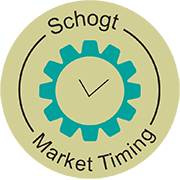 Print
Market preview goes to Members by email for FREE. Join us today!
Your email address will not be shared with others.
Review
"The periods of decline from the crest of the 18-year cycle to its trough at the end, has ranged from 2 months (the 1987 case) to 8 years. Since the Great Depression of 1932, there have been no declines from crest to trough that have lasted more than two years. Even the 90% decline into the Great Depression low of 1932 lasted less than 3 years (two years, 8 months). Prior to that – prior to the creation of the Federal Reserve Board in late 1913 – all declines had lasted 4-8 years. Since the creation of the FRB, no declines have lasted that long. The creation of the Federal Reserve Board has been an exceptionally powerful force for the ongoing bull market in stocks, although there have been instances in which the stock market has declined sharply, but in relatively short periods…." Excerpt from the soon-to-be-released third edition of The Ultimate Book on Stock Market Timing, Volume 1: Cycles and Patterns in the Indexes, by Raymond Merriman, Seek-It Publications, W. Bloomfield, MI, June 2017.
It was a very peculiar week, typical of Neptune turning retrograde on June 16, following the Sun/Saturn opposition on June 15, and with each planet in fickle mutable signs (Gemini, Sagittarius, and Pisces). That is, some world stock indices (DJIA, DAX) made new all-time highs into June 15 +/- 1 trading day, and others made new multi-month lows. Some equity markets were hot, and some were cold, creating multiple cases of intermarket bearish divergence throughout the world in a time period leading up to the very important Sun/Mars conjunction of July 26. As stated before, this Sun/Mars conjunction is a powerful geocosmic signature that has a high probability of beginning or ending a double digit decline in equity markets when they come within 12 degrees (and usually 8 degrees or less) of one another, which measures out to an orb of 6 weeks either side of its occurrence. We are entering that time band now.
However, what makes last week's market behavior so peculiar (Neptune) is that the USA stock markets – and especially the Dow Jones Industrial Average – have been making new all-time highs as the Federal Reserve Board announced another rate hike on Wednesday, June 14. Not only did the stock market rally into that expected announcement, but so did treasuries. Rate hikes are supposed to cause treasury prices to decline, and in reaction to higher rates, equity levels also usually decline. But not this time. Not with Neptune highlighted by going stationary direct, forming a T-square to the Federal Reserve Board's natal Mercury/Saturn opposition. Mercury pertain to communication – or "messaging" – and somehow the Fed has convinced investors that rising rates are a positive for the future of the economy. Really?
I think Neptune (the Fed) may not be telling the full story. Yet, as my studies on long-term stock markets indicate, no one can truly dispute that the Fed has had a positive influence on U.S. stocks over the last 100 years, notwithstanding a couple of serious declines of 40% or more that were corrected in less than three years. Prior to that, it would take 4-8 years for a bear market in U.S. stocks to end.
The FED has done its job well of supporting the U.S. economy for over 100 years. It's just that it may not be so clear these days on exactly what its job is, or what it will become, as "The Great Reset of 2017-2020" gets underway. The "Reset" may very well involve an audit and a transformation of the Fed, as we have known it, once Saturn moves into Capricorn (with the Sun), on the 2017 winter solstice.
Last week also witnessed a re-test of the low for this year in crude oil, and a sharp pullback in Gold and Silver. However, the decline in Gold and Silver is very much according to our forecasts presented in the June 3 webinar. Their highs – and that of some major currencies and several other world equity indices like the Japanese Nikkei and London FTSE – remain in effect since our June 2 three-star geocosmic critical reversal date (CRD), +/- 3 trading days. In other words, geocosmic signatures as a powerful market timing tool continues to work just fine.
Shorter-term Geocosmics and Longer-term Thoughts
"… a lot of our disagreements (between my liberal friends and me) is about the suitability and functionality of government. They believe that government is the answer, while I believe government is the source of the problem in many cases. Government planning falls short, most of the time, because of the law of unintended consequences. Our economic system is so complex that the model almost never corresponds with reality …. History is clear. Capitalist nations have to "build walls" physical or legal, to keep people out, while communist countries must do the same to keep people in. What else do you have to know?" a friend, who also writes a letter about what is happening on the world stage, but wishes to remain anonymous.
There are no major geocosmic signature unfolding this week, at least not until the next cluster begins on Saturday, June 24. This usually means stock markets will be mostly one-directional with no major reversals. However, June 20 is the summer solstice when the Sun enters the sign of Cancer. The next day, Mercury does the same, joining Mars, who entered Cancer the prior week, on June 4. All that patriotic, family-oriented, emotionally-driven, loyalty-demanding sign of Cancer! One wonders what will happen now that the illusionary/delusionary/irrational influence of Neptune (and its cosmic cousin Jupiter, the two weeks before that) ends? We may have enjoyed the euphoria of stock indices marking new highs during this period (June 2-16), but can they sustain their upward momentum with all this Cancer energy from the cosmos over the next several weeks? There is reason to be concerned, for Cancer has an innate sense of wanting to be safe, protected, and hence locking in profits, due to fear of something getting out of control.
In recent columns, I discussed the political risk to the market. The USA is a Cancer nation, so conditions in America are apt to move markets during this time. There is much talk that the Republican White House and Congress need to get some legislation passed soon, or they will lose what little support they have left from the public. There is an opportunity to do that now as transiting Jupiter (good fortune, or at least hope and optimism of success) has turned direct as of June 9, and is transiting the USA natal Saturn (laws and legislation) through mid-July. If the GOP is to succeed, it will need to accomplish something in these next four weeks, or it could very well be downhill, from there into not just the mid-term elections of 2018, but all the way through the general election of 2020. The thing to understand about Jupiter is that it doesn't guarantee success. It just guarantees optimism and confidence that one's efforts will succeed. But oftentimes this is a false sense confidence based upon thin air - an exaggeration substituting for reality. You can't just talk a good game and expect others to fall in line. You have to actually lead and make things happen. This is the perfect time for Republicans to get something done. It is also then perfect time for Democrats to dash those hopes via resistance to any change imitated by the GOP. If the Republicans succeed these next four weeks in passing some legislation, the future will look promising. If the Democrats succeed in preventing any legislation getting through, the next elections will look very good for them.
It is all progressing to the competitive Sun/Mars conjunction in Leo on July 26, followed by the solar eclipse conjunct Mars (and Donald Trump's natal Mars/Ascendant) on August 21. Someone is going to be very upset, and the markets will respond accordingly, which is why the greatest risk to the U.S. stock market this summer is the political one. It will follow – respond to – the path of success or failure of Donald Trump and the GOP. If they succeed in passing important economic legislation (like tax reform), the stock markets will soar. If the Democrats succeed in preventing that, the markets will more than likely have a swoon dance that could last into August-October, repeating the history (and probabilities) of the Sun/Mars conjunction its correlation to the performance of the stock market.
Announcements
The monthly edition of the MMA Cycles Report will be released this week (Monday-Tuesday) to all subscribers of that report. Last month's report featured a special update on Gold, and we will follow up with that analysis since Gold is performing as described then. In addition to Gold and Silver, the monthly MMA Cycles Report also covers the outlook for U.S. stocks (DJIA and S&P futures) for both investors and traders. It also covers MMA's original geocosmic critical reversal dates (CRDs) and Solar/Lunar reversal dates over the next several weeks. The MMA Japan Cycles report comes out Wednesday and covers the Nikkei, JGB Bonds, and the Dollar-Yen. The MMA European Cycles Report will be released this week as well and covers the German DAX, Swiss SMI, and Netherlands AEX. If you are not a subscriber to the MMA Cycles Report and wish a copy of this month's outlook for financial markets, consider taking out a 2-issue trial subscription for only $55.00 (first time subscribers only). This is an excellent way to get the MMA overview on financial markets, and at an important time leading up to the Sun/Mars conjunction!

I have an article on the 18-year stock market cycle in this quarter's issue of Traders World magazine (issue #66) A free promo copy is available at tradersworld for our readers.

The MP4 downloadable recording of the MMA Mid-Year 2017 Financial Markets Webinar, conducted on Saturday, June 3, is now available, and includes the 66 power point slides and graphs used in the webinar. The live presentation, limited to 100 persons, sold out again. It was another good presentation, lasting a little over 2 hours, with an interesting Q and A at the end. The subject of this webinar was an overview of where we stand in "The Great Reset" described in the Forecast 2017 Book. It also included a very in-depth look at the USA stock market, focused on the three main cycles that will be coming due between now and November (we narrow it down in the webinar), as a result of the latest research to be released in the new version of the Stock Market Timing book, "Cycles and Patterns in the Indexes." The webinar included an update on the outlook for the precious metals, US Dollar, Euro currency, crude oil, soybeans and T-Notes. It discussed in detail the forthcoming solar eclipse, conjunct Mars on August 21, that will fall on Donald Trump's natal Mars and Ascendant (and opposite Janet Yellen's natal Moon). The cost of this MP4 recording and power point slides is $45.00 / € 43,00 (plus VAT). Read more here>>

Special offer of the updated "The Ultimate Book on Stock Market Timing Volume 1: Cycles and Patterns in the Indexes" in combination with recordings of the Merriman Mid-Year 2017 Financial Markets Webinar, June 3rd 2017, Outlook on many financial markets including precious metals, economic and geopolitical matters of interest and more. Order today and save upto 20%! Read more>>

Also, the writing of the third, updated edition of The Ultimate Book on Stock Market Timing, Volume 1: Cycles and Patterns in the Indexes is well underway now. This is the most comprehensive book ever published on the cycles of the stock market (DJIA, S&P and Nikkei), with analysis going back to the British stock markets of the 17th century. A lot has happened since this book was first written in 1997, twenty years ago, including the long-term cycle low of March 2009 in the recent "Great Recession." All longer-term cycles have been updated, as well as intermediate and shorter-term cycles and their phases. This is a must-have book if you are a serious investor, trader, or student of cycles, which is one of the most important tools used in market timing. There is nothing else like this book available today. The expected release date is this July-August, For more information and to pre-order the new version of this book, continue here>>
"The Ultimate Book on Stock Market Timing: Cycles and Patterns in the Index" is literally the ultimate book on the analysis of the stock market. We are especially impressed with various waves of long-term cycles for more than 200 years, which we have never seen." - T. Kaburagi, Toshi Nippou Ltd (Japan's major commodity newspaper).

Our weekly and daily subscription reports continue to be very profitable this year in almost every market analyzed -especially stock indices. If you are an active short-term trader, or even if you are an investor who likes to keep up with our current thoughts on financial markets, you will be interested in MMA's Weekly or Daily Market reports. These weekly reports give an in-depth analysis of the DJIA, S&P and NASDAQ futures, Euro currency (cash and futures), Dollar/Yen cash and Yen futures, Euro/Yen cash, T-Notes, Soybeans, Gold and Silver, and Crude Oil, and now, the British Pound! The daily reports cover all stock indices listed above, as well as futures in the Euro Currency, Japanese Yen, T-Notes, Gold and Silver, plus GLD and SLV (the Gold and Silver ETF's). Both reports provide trading strategies and recommendations for position traders as well as for shorter-term aggressive traders. Subscription to the daily report also includes the weekly report. These reports are valuable to those who trade Exchange Traded Funds (ETFs). Subscription to the daily report also includes the weekly report.
Disclaimer & State of Purpose
The purpose of this column is not to predict the future movement of various financial markets. However, that is the purpose of the Schogt Market Timing & MMA (Merriman Market Analyst) subscription services. This column is not a subscription service. It is a free service, except in those cases where a fee may be assessed to cover the cost of translating this column from English into a non-English language.
This weekly report is written with the intent to educate the reader on the relationship between astrological factors and collective human activities as they are happening. In this regard, this report will oftentimes report what happened in various stock and financial markets throughout the world in the past week, and discuss that movement in light of the geocosmic signatures that were in effect. It will then identify the geocosmic factors that will be in effect in the next week, or even month, or even years, and the author's understanding of how these signatures will likely affect human activity in the times to come.
The author (Merriman) will do this from a perspective of a cycle's analyst looking at the military, political, economic, and even financial markets of the world. It is possible that some forecasts will be made based on these factors. However, the primary goal is to both educate and alert the reader as to the psychological climate we are in, from an astrological perspective. The hope is that it will help the reader understand these psychological dynamics that underlie (or coincide with) the news events and hence financial markets of the day.
No guarantee as to the accuracy of this report is being made here. Any decisions in financial markets are solely the responsibility of the reader, and neither the author nor the publishers assume any responsibility at all for those individual decisions. Reader should understand that futures and options trading are considered high risk.