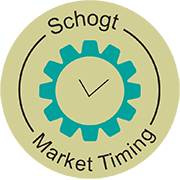 Print
Market preview goes to Members by email for FREE. Join us today!
NEW: Market Timing Trend Investments in Money Management.
Read more in Announcements section below.
Review and Preview
The U.S. economy continued to add jobs at a solid clip in May, with nonfarm payrolls up 223,000 and the unemployment rate falling to an 18-year low of 3.8 percent, the Bureau of Labor Statistics reported Friday. Economists had been expecting payroll growth of 188,000 and the jobless rate to hold steady at 3.9 percent. The unemployment rate was last this low in April 2000. – Jeff Cox, www.cnbc.com, June 1, 2018.
Hmmm… the last time unemployment was this low was 18 years ago in… April 2000? And the all-time high in the DJIA back then occurred in January 2000, followed by the NASDAQ's all-time of 5000+ in March 2000, after which the latter fell to around 1000 in October 2002, a loss of 80%, as the dot-com bubble burst. We have similar fears today, given that the DJIA is making another new all-time high under the 45-year Saturn/Uranus waning trine aspect. In 2000, we were under the Saturn/Uranus waxing square aspect. Saturn/Uranus in any major aspect, repeats in a 45-year cycle that has a remarkable correlation to long-term cycle highs or lows – more remarkable than any other planetary pair cycle. In the current case, this aspect lasts from December 2016 through August 2018. A 4-year or greater stock market cycle most often unfolds within this period, although there can be a lag of up to 10 months, due to the length of this cycle. This the reason for our forecast that a long-term stock market cycle crest is likely unfolding in 2018, and no later than mid-2019.
Shorter-term, the stock markets of the world were very erratic last week. Can you tell the Sun has moved into Gemini since our last report? Gemini is ruled by Mercury. You know, the Trickster who is also like the road runner cartoon, darting first this way, then quickly pivoting that way, and then just as quickly another way. You never know which way he is going to turn – only that he will surely turn just as soon as you think he has settled down and decided on one way over another, only to be surprised that he hasn't settled down at all. He keeps turning and turning, up and down, left then right. And that pattern was displayed in classical form last week in terms of market activity, which simply followed the lead of world leaders, who are following…. What? Their gut instincts? First the meeting with North Korea is on, then off, but maybe it will happen after all. First the tariffs are on, then off, then on again after stating they were off. But maybe they will be taken off again shortly, depending on…. What? Gut instincts? In response, the DJIA opened last week down 400 points, then up 300 points the next day, then down 250 points on Thursday, and ending the week with a 200+ gain on Friday. It was a very wild trading week, like a monster roller coaster ride, or cosmically-speaking, like a Mars square Uranus with the Sun in Gemini. These planetary combinations are wild, within a major geocosmic critical reversal zone (CRD), and the markets (along with world leaders) are responding accordingly. But do not stress out too much, because the Sun will move out of Gemini on June 21, and then we only have to contend with Mars square Uranus through mid-September. That's like going from the roller coaster to the tilt-a-whirl ride.
Although U.S. stocks were up and down last week, several other markets were just down, with most falling to their lowest level in four weeks. China's Shanghai Index and Brazil's Bovespa, however, fell to their lowest levels of 2018. An exception was India, where the Nifty actually rallied most of last week, in accordance with the forecast made in our new MMA Weekly Indian Stock Market Report by MMTA market graduate and analyst Nitin Bhandari.
In other markets. Gold and Silver struggled as the Dollar surged to its highest level in 6 months. Amidst the political upheaval in Italy and in response to President Trump's on-again off-again tariff (new tax) policies, investors sought safety in the U.S. Dollar and U.S treasuries, which also had a sharp spike up last week. Crude oil had a challenging week after posting its 3-year high on May 22 at 72.83. That was just three trading days before the second passage of the Jupiter/Neptune waning trine. As detailed in this column several times, I think Jupiter and Neptune, as co-rulers of Pisces, rule crude oil. But I heard talks at last week's fantastic UAC conference in Chicago where other financial astrologers believe Saturn and Pluto rule crude oil. My thought is that Pluto rules drilling, while Saturn and its ruling sign of Capricorn rules solid matter like cement and coal. Oil is liquid, which falls in the domain of Pisces and its co-rulers Jupiter and especially Neptune. However, the correlative studies of my colleagues were interesting and deserve more attention. Even though I am a Capricorn, I am not so crystallized in my own beliefs and studies that I cannot learn from others who view things differently, especially when they demonstrate studies backing up their beliefs.
Short-term geocosmics and longer-term thoughts
Meanwhile US President Trump has decided to increase taxes on US consumers, having previously tweeted against doing so. A 25% tax on USD 50bn of goods partially made in China is to go ahead. (This is not a trade war, not even close). This is probably the last tax increase Trump can impose without the US consumer realizing that they are being taxed. – Paul Donovan, UBS Morning Comment, www.ubs.com/cio May 30, 2018.
Equity markets took a header on Tuesday (and Thursday) as global troubles intruded on the story of faster U.S, economic growth. The combination of Italy's political threat to the euro and Donald Trump's decision to impose unilateral tariffs on $50 billion in Chinese imports had investors retreating from riskier asserts as the Dow fell 1.6% With Italy in turmoil and bond yields rising in Italy and Spain, the Trump tariffs will hit Europe at a dangerous economic and political moment… This is a great lesson from the arbitrary regulation of the Barack Obama years, which Mr. Trump has done so much to reduce. Yet now he's replacing Mr. Obama's government-made uncertainty with his own via arbitrary tariffs. – "America First Meets Mr. Market," Opinion Page, Wall Street Journal, May 30, 2018.
Since its three-year high on May 22, crude oil has been falling rather sharply into June 1, as Venus makes a grand trine to the Jupiter/Neptune trine. This suggests a temporary or primary bottom may be forming this week or the next. This is further supported by the Sun/Neptune waxing square on Thursday, June 7, followed by Neptune turning retrograde on June 18 (Neptune, again, co-rules crude oil, according to my own studies).
The highlight of Neptune during the next two weeks also brings to the forefront the theme of trust versus mistrust, right during the time that President Trump is to meet with North Korean leader Kim Jong-un. Will anything come directly out of this meeting? Probably not, for Neptune is not known for its power to manifest, but only to imagine and hope. They may talk about what a wonderful future for the planet lies ahead… that is, if they really do meet, for Neptune has a tendency to be a "no-show" too. With Neptune, its all about pictures and images, creating a narrative that makes someone look very good (much better than they really are) or really bad (much worse than they really are). With Neptune, reality is negotiable. Reality belongs to whoever can cast the most attractive, interesting, and compelling picture of what isn't, not of what is. And this will make you wonder: what really is reality? And eventually, with Uranus now in Taurus, what is really money, currency, and security? But that is a story for another column.
Announcements
NEW!!! Market Timing Trend Investment - Money Management

Would you perhaps be interested in the markt timing method, based on historical research of natural cycles in economy and financial markets - and would you also like your money / assets to be managed professionally this way for you?

Then we have some good news for you: as of 1 June 2018, MMTA-graduate Irma Schogt signed a contract with the firm Today's Asset Management in Netherlands to start doing exactly what's described above. Join us, in Trend Investment under Management. For more information, read more here>> It is in Dutch only now, but it will soon also become available in English.

The special trial subscription period for the new MMA Weekly Indian Stock Market and MMA Weekly Canadian Markets now ends.

The official launch of these new reports will start next week, June 11. Each report will come out on Saturday-Sunday, prior to the opening on Monday of the forthcoming week. Sign up now and take advantage of these new special reports! Read more about the Canadian Markets Report>> and about the Indian Nifty Report>>

The MP4 recording of the MMA Webinar on Financial Markets: Second Quarter Preview, April 28 has become available.

2 hours, 15-minutes, packed with valuable information, very valuable for the purpose of planning trades for this summer, especially the material on stock markets and Bitcoin. The cost for the MP4 is $45/€ 39* and includes a copy of the slides that were used.
This may be our last webinar of the year. There will not be a summer webinar this year. Read more>>
Disclaimer & State of Purpose
The purpose of this column is not to predict the future movement of various financial markets. However, that is the purpose of the Schogt Market Timing & MMA (Merriman Market Analyst) subscription services. This column is not a subscription service. It is a free service, except in those cases where a fee may be assessed to cover the cost of translating this column from English into a non-English language.
This weekly report is written with the intent to educate the reader on the relationship between astrological factors and collective human activities as they are happening. In this regard, this report will oftentimes report what happened in various stock and financial markets throughout the world in the past week, and discuss that movement in light of the geocosmic signatures that were in effect. It will then identify the geocosmic factors that will be in effect in the next week, or even month, or even years, and the author's understanding of how these signatures will likely affect human activity in the times to come.
The author (Merriman) will do this from a perspective of a cycle's analyst looking at the military, political, economic, and even financial markets of the world. It is possible that some forecasts will be made based on these factors. However, the primary goal is to both educate and alert the reader as to the psychological climate we are in, from an astrological perspective. The hope is that it will help the reader understand these psychological dynamics that underlie (or coincide with) the news events and hence financial markets of the day.
No guarantee as to the accuracy of this report is being made here. Any decisions in financial markets are solely the responsibility of the reader, and neither the author nor the publishers assume any responsibility at all for those individual decisions. Reader should understand that futures and options trading are considered high risk.