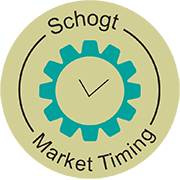 You are here
>
About Schogt Market Timing
Weighted valuesIndex 22 January 2019DJIA: 84 Silver: 116.62
Read more »
Print
About Schogt Market Timing
Welcome to Schogt Market Timing, your market timing specialist in the Netherlands. Private traders as well as professionals will find analyses and strategies for optimising their performance in the financial markets.
The method is based on extensive historical research of stock exchange data* on the coherence of historical trend analysis patterns and natural cycles, in order to help the serious trader and investor to interpret the different financial markets and the general economy.
The method is based on the work of cycle analyst Walter Bressert, developed by the American market analyst Raymond Merriman, who passed it on to a new generation through the Merriman Market Timing Academy - of which Schogt is one.
Track-record of the method in practice
54.4% profit in 3 years 2010-2012
21% profit in half year nov 2016 - May 2017
On average 20.5% profit on annual basis
What Schogt Market Timing can do for you
Traders and investors can find free newsletters and videos on this site, and in the webshop research books, webinars, live workshops and newsletters.
Schogt can be hired by professional investment institutions as investment adviser for advice in determining investment strategies.
Schogt Market Timing was founded by Irma Schogt, former currency trader at AbnBank. Schogt has been representing the Merriman Market Analyst (MMA) since 2002. After graduating from the 'Merriman Market Timing Academy'' (MI, US) in 2015, Schogt is the only Dutch-speaking specialist in the market timing method.
Schogt Market Timing is
situated F. Zeijdelaarweg 23, 1382 MB Weesp, Netherlands. Visit only by appointment.
registered with the Chamber of Commerce under number 32086059
holder of VAT-number NL121070293B01
---
*) See 'The Ultimate Books on Stock Market Timing'series Volume 1-5 and other market research books. [Link.]
Important Information
Schogt Market Timing Digest contains no individual investment advice only a general recommendation on which investors can base their investment decisions. It does in no way form any sort of contract or obligation. The customer receiving this information is responsible for his or her own choices and use of the information, hereby understood as the decision to hold, buy, sell or actions as such regarding stocks or financial instruments. The supplied information is exclusively indicative and can be altered at any given moment without warning.
No rights can be derived from the market opinions from Schogt Market Timing. Schogt Market Timing, or any other (legal) person, is not liable for damages of any nature resulting from on this website published newsletters and market opinions, the therein admitted or processed information or damages resulting from the non-availability of the website. Developments that occur after our market opinions and investment recommendation(s) have been published can influence the accuracy of investment recommendation facts and provided points of view. Schogt Market Timing obtains her information from trustworthy sources and at the time of printing has taken continuous and utmost care to provide information based on her points of view that are accurate and not misleading. Market opinions are based on trustworthy sources. Schogt Market Timing does not warrant that her attained and processed information is accurate or complete. The information on this website can alter without any form of prior warning. Authors rights and protection rights on data archives are applicable on this website.