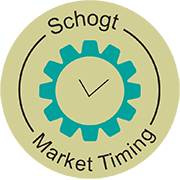 Weighted valuesIndex 21 March 2018DJIA: 81.3 Silver: 35.95
Read more »
SCHOGT Market Timing
Welcome to Schogt Market Timing, your market timing specialist in the Netherlands. Private traders as well as professionals will find analyses and strategies for optimising their performance in the financial markets.
The method is based on extensive historical research of stock exchange data* on the coherence of historical trend analysis patterns and natural cycles, in order to help the serious trader and investor to interpret the different financial markets and the general economy.
News
Coming soon: MMA Daily Bitcoin Report
Following our trial investigative period on Bitcoin related to our MMA market timing indicators, we will begin offering our new MMA Daily Bitcoin Report for traders beginning on March 12. For early birds, we have an introductory special offer, which will end at 6 PM, March 12 (18 hours CET).
Read more